A new track by the gauci quartet, featuring Art Bailey – accordion, Michael Bisio – bass, and Jeremy Carlstedt – drums. Available now at itunes!
___________________________________
Thunk! live recording/webcast @ ShapeShifter Lab
Thunk! will be performing a set at the Shapeshifter Lab in Park Slope next Wednesday Sept. 11th at 9:30 pm. The set will be recorded live at the venue and and also be presented as a live webcast at  http://live.shapeshifterlab.com/.  Here for venue info.  Hope you can join us!
___________________________________
"darkness is a strange song" now available on itunes!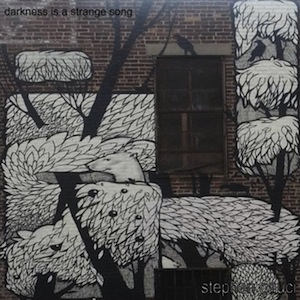 Here's a new track by the gauci quartet, featuring Art Bailey – accordion, Michael Bisio – bass, and Jeremy Carlstedt – drums. Available now at itunes!
________________________________________
"tango while the world burns" now available on itunes!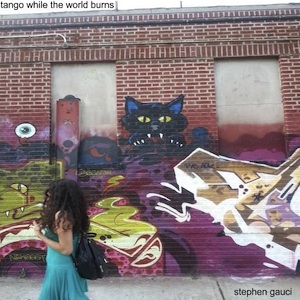 Check out this new single by the gauci quartet, with Art Bailey playing accordion, Mike Bisio on bass, and Jeremy Carlstedt on drums! Available now at itunes. Viva La Tango!
_______________________________________
New Thunk! CD 
Thunk has just released it's self titled debut CD on Nottwo Records. Thunk features Stephen Gauci-tenor saxophone, Kenny Wessel-guitar, Mike Bisio-bass, and Jeremy Carlstedt – drums. On this outing we focus on reconfiguring Thelonious Monk compositions.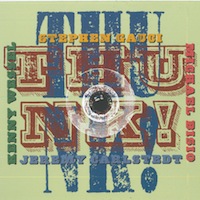 Reviewed by Mark Corroto at All About Jazz:
"If the subject of an album of covers songs is pianist Thelonious Monk, then the approach invariably is reverence or its opposite, insolence. Bands either worship at Monk's alter or attempt to out-Monk Monk by counterfeiting eccentricity or outlandishness. To quote the great man, "You've been making the wrong mistakes."
One band not making those wrong mistakes is saxophonist Stephen Gauci's quartet. Its eight Monk covers begin with a bold confidence and ply a determined vigor to this famed canon.
Thunk! opens with a hint of funk, as bassist Michael Bisio and drummer Jeremy Carlstedt stroll New Orleans for a pulse. By the time guitarist Kenny Wessel and Gauci enter, the die has been cast. These cats muscle "Bemsha Swing" more as jazz-funk than bebop. While aggressive, the music never comes off as irreverent.
Gauci has shared a regular collaboration with Bisio in the bassist's quartet; Bisio also appears on pianist Kris Davis' stellar Three (Clean Feed, 2010), and on Gauci's twin-bassist Basso Continuo group, on Nididyhasana (Clean Feed, 2008).
Tracks like "Monks Mood," "Well You Needn't" and "Off Minor" are played as if pushed by a pugnaciousness that is more New York brusqueness. Credit Bisio's hand, and the producer's choice to mix the drums upfront. Gauci's choice of notes, as his selection of players dictates this mood. The discovery here is Wessel. He favors a supportive role when Gauci solos, but stitches together a running commentary throughout tracks like "Nutty" and dresses up "Ask me Now," in duo with Gauci, that simply elevates the track into a dream state. Gauci's Thunk! book is a veracious take on the brilliance of Thelonious Monk."
_________________________________________________________
New recording with "Segment Quartet"
I'm excited to be involved in a new project with Nick Demopoulos performing on smomid (string modeling midi device), Adam Lane -bass, and Kevin Shea -drums. These guys are kickin' my ass!!  We we're just in the studio recording a new CD due out sometime next year. Stay tuned!
Here's some video from a recent gig:
_________________________________________________
gauci/welcome/johnson/costa
This was one sweet hit at Barbez, featuring compadres Chris Welcome- guitar, Max Johnson-bass, Carlo Costa-drums!