Stephen Gauci
Stephen Gauci is recognized as one of the leading saxophonists on the New York City improvised music scene.
Musicians he's performed with include William Parker, George Garzone, Sabir Mateen, Tony Malaby, James Emory, Karl Berger, Kenny Wessel, Kris Davis,Tyshawn Sorey, Herb Robertson, Ben Allison, Marc Helias, Matt Maneri, Roy Campbell Jr., Daniel Carter, Steve Swell, Mike Bisio, Jay Rosen, Lou Grassi, Whit Dickey, Kirk Knuffke, Kenny Wollesen, and Graham Haynes.
In the past six years Stephen has released twelve records as a leader, as well as appearing as a prominant side man on three "Mike Bisio Quartet" releases. Gauci has performed at the Creative Improvised Music Festival (Austria), Rochest
er International Jazz Festival (New York), High Seirra Festival (California), Bumbershoot Festival, Folk Life Festival, Earshot Jazz Festival (Seattle, WA), and the Vision Festival (NYC). He has toured throughout Europe including Sweden, Germany, Austria, France, Hungary, and Portugal.
Yoni Kretzmer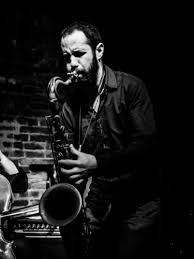 Before moving to New York City in 2010, Jerusalem born tenor saxophonist and composer Yoni Kretzmer was an active member in the growing Tel Aviv nu-music scene leading various groups such as New Dilemma (chamber/free jazz string quintet) and Far From Home (free/folk quintet with two acoustic guitars). For the premier of New Dilemma at the Jerusalem/Khan Theater, Tel Aviv Jazz Festival Producer Barack Weiss wrote for NANA, "It has been a long time since I have last experienced such a sincere and impressive performance, in its willingness of the artist to expose the full force of his most inner feelings."
Kretzmer has been a sideman for Albert Beger and Harold Rubin, and performed and curated many shows and festivals including October Jazz Fest, Red Sea Jazz Festival and Tel Aviv Jazz festival.
Yoni attended the American School of Modern Music (Paris, France) and has studied with Rick Margitza, Matthieu Donarier, Ellery Eskelin and Assif Tsahar. He currently leads 2Bass Quartet (Sean Conly, Reuben Radding, Mike Pride) and 6 Boxes (Daniel Levin, Eyal Maoz, Andrew Drury), and has released four CDs under his own name: New Dilemma (Tanchelson, Cohen-Shani, Ettun, Feinglod), One Afternoon (Jacoby, Fershtman), Nevertheless (Ajemian, Pride) and Overlook (Levy, Ran, Peskoff). New Dilemma was rated top five inHa`aretz. Kretzmer actively runs the Out Now Recordings record label with Israeli musician Ido Bukelman.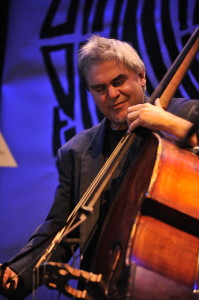 Ken Filiano
Ken Filiano is one of the most versatile and in-demand bassists working today. His extensive recording and performance resume includes work with Steve Adams, Anthony Braxton, Karl Berger, Fred Ho, Bobby Bradford, Nels Cline, Connie Crothers, Bill Dixon, Ted Dunbar, Giora Feidman, Vinny Golia, Frank London, Tina Marsh, Dom Minasi, ROVA Saxophone Quartet, Roswell Rudd, Fay Victor, Andrea Wolper, Pablo Zeigler, and many, many more. His discography as a leader includes the solo bass CD, "subvenire" (Nine Winds); "Dreams From a Clown Car" (Clean Feed), which presents his compositions for his quartet, Quantum Entanglements, with Tony Malaby, Michael Attias, and Michael TA Thompson; and "Baudalino's Dilemma" with Warren Smith, Vinny Golia, and Michael TA Thompson (2014).
MICHAEL C. WIMBERLY   
Michael has performed and recorded with master musicians from Africa, Cuba, Japan and Europe in addition to American artists such as, funk legends George Clinton and the Parliament Funkedelics, The Boys Choir of Harlem, Berlin, Vienna and International Region Symphony Orchestras of Europe, Rock icons Vernon Reid, Henry Rollins, Blondie and R&B sensations D'Angelo, Angie Stone and Alyson Williams.  He has performed with Steve Coleman's Five Elements (including David Gilmore, Marvin Smitty' Smith and Ravi Coltrane) collaborating on many projects, live and in the studio, in which radical conceptual pieces were refined for performance.
Michael has recorded with P-Funk, Mama Tongue, Paul Winter Consort, Henry Rollins, Charles Gayle and many others.