Stephen Gauci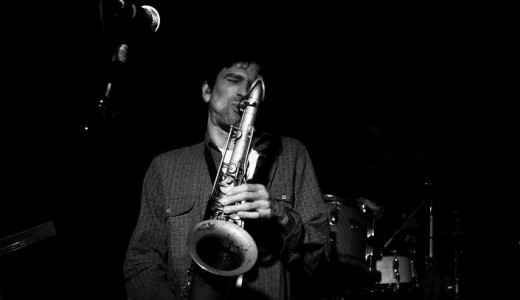 Stephen Gauci is recognized as one of the leading saxophonists on the New York City improvised music scene.
Musicians he's performed with include William Parker, George Garzone, Sabir Mateen, Tony Malaby, James Emory, Karl Berger, Kenny Wessel, Kris Davis,Tyshawn Sorey, Herb Robertson, Ben Allison, Marc Helias, Matt Maneri, Roy Campbell Jr., Daniel Carter, Steve Swell, Mike Bisio, Jay Rosen, Lou Grassi, Whit Dickey, Kirk Knuffke, Kenny Wollesen, and Graham Haynes.
In the past six years Stephen has released twelve records as a leader, as well as appearing as a prominant side man on three "Mike Bisio Quartet" releases. Gauci has performed at the Creative Improvised Music Festival (Austria), Rochest
er International Jazz Festival (New York), High Seirra Festival (California), Bumbershoot Festival, Folk Life Festival, Earshot Jazz Festival (Seattle, WA), and the Vision Festival (NYC). He has toured throughout Europe including Sweden, Germany, Austria, France, Hungary, and Portugal.
Nick Demopoulos
Nick worked and performed with renowned percussionist and NEA Jazz Master Chico Hamilton in his group "Euphoria" and has appeared as the guitar player on Chi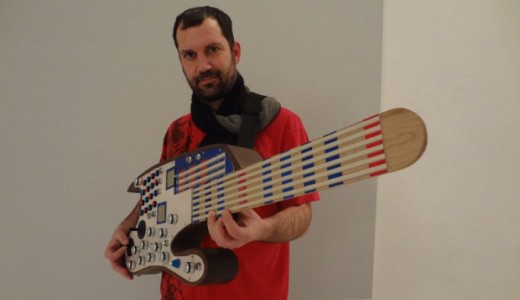 co's last releases, "Revelation," "Euporic" and "The Inquiring Mind." Other artists he has worked with include Solsonics, God is my Copilot, Complexions Contemporary Ballet, Choreographer Camille Brown, The National Theatre of the United States of America, Walter Thompson, Stephen Gauci, Angela DiCarlo, Exegesis, and Angel Eyedealism.
In 2008 Nick Demopoulos was selected to participate in the American Music Abroad Program, sponsored by Jazz at Lincoln Center and the U.S. Department of State and as a result toured the Gulf States region of the Middle East and held performances and educational workshops in Bahrain, Oman, Yeman, United Arab Emirates and Kuwait. He has appeared at numerous national and international venues, including the SXSW, 2011 In/Out Fest at the Knitting Factory in Brooklyn, 2003 Montreaux Jazz Festival, the Los Angeles County Museum of Art, The Whitney Museum, The Brooklyn Museum, The Phoenix Festival, the Hamburg Jazz Festival, Dizzy's Club in New York, and the National Geographic Museum in Washington D.C. In 2012 he perfomed a solo guitar piece entitled, "Memories," on stage with Complexions Contemporary Ballet during their season at the Joyce Theatre that was created by choreographer Camille Brown.
In 2010 Nick started his most important work to date, designing, building and composing music for an instrument he created called "Smomid." This instrument can be most simply described as a touch sensitive guitar that controls highly sophisticated software. This software allows for variation of beats, bass lines and patterns within a musical performance in realtime. It also allows for a dynamically, variation rich and ever evolving live performance of electronic music. The music Nick performs on the Smomid is closer to Jazz, World or modern Classical than Electronic Music.
Philip White
The music of composer, performer and improviser Philip White is known for its ecstatic intensity and expressive sonic palette. Working with an array of homemade electronics at the intersection of noise, jazz and contemporary concert music, White exploits the tension between rigorous, closed electronic systems and the urgency of human compulsion.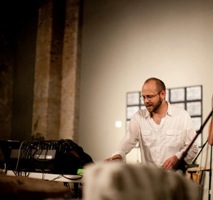 Drawn to the chaotic, autonomous behavior of feedback based instruments, Philip seeks to discover new ways to engage with, steer, or even struggle to control them. He considers control of his systems a parameter on equal footing with pitch, timbre or loudness. His homemade electronic instruments combine to create a self-determining and often explosive sound world which he extends to his compositions for ensemble and work with other artists.
His work has been exhibited internationally at electronics arts festivals, museums, and galleries including: Turku Biennial 2013, WRO Biennale 2013, Transmediale 2013, Denver Art Museum (2013), The Photographer's Gallery London (2012), The Camera Club of New York (2012), Eyebeam (2012, 2007), Harvestworks (2010, 2012); Gli.tc/H 2112; Festival De Arte Digital 2010; FILE 2009; NIME 2009; Filmer La Musique 2009; FONLAD 2009; Torrance Art Museum (2008, 2007); Optica Film Festival & (2011 2008). He has participated in residencies at the Making Lab of the 4th APAP ( Korea 2013), Textielmuseum in Tilburg, NL (2013), Institute for Electronic Arts (2012, 2013), Museums Quartier (Vienna 2010), STEIM (Amsterdam 2007, 2013), Experimental Television Center (2009), Harvestworks (NY 2010), Free103Point9 (2012). He has presented and led workshops at several international institutions including the Universidad De Chile (Santiago 2013), Santiago Maker Space (2013), Pomona College (2013), Recyclism Hacklab (Dublin 2013), and the Science Gallery (Dublin 2013).
 Adam Lane
By combining a disparate set of influences into a unique improvisational voice, Adam Lane has become recognized as one of the most original creative voices in contemporary jazz. His 2006 recording New Magical Kingdom, was recently featured in the Penguin Jazz Guide 1001 Best Records Ever Made, and his most recent recording, Ashcan Ranting received a myriad of critical praise including four stars in Downbeat.
His current projects include his Full Throttle Orchestra, a nine piece ensemble formed to realize his extended jazz orchestral compositions, The Adam Lane Trio, featuring legendary reedist Vinny Golia, Four Corners, a co-lead ensemble with reedist Ken Vandermark, and an ongoing solo project that combines unique processed double bass improvisations with Lane's original story telling. As a sideman he has performed with an eclectic mix of musicians, from tenor great John Tchicai, to alto iconoclast Richard Tabnik, to rock legend Tom Waits. Lane's compositions have been praised for their audacity and originality.
Sam Prestiani of Jazziz says of Lane's writing: "His confidence and confrontational prowess as well as his abiding sense of lyricism and heavy-groove power place him in the lineage of forward-jazz adventurism." And Bill Meyer writes in Downbeat, "Lane's music is genuine, accessible, fun. The music is deeply in touch with the essential pleasures of earwig-worthy tunes, fat bluesy grooves, and sheer tonal beauty." (Downbeat Jan 2011)
Lane studied composition at Wesleyan University with Anthony Braxton, and at California Institute of the Arts with Wadada Leo Smith. In 1996 he received a Paternings Scholarship for study at the Darmstadt School for New Music where he studied double bass with Steffano Scodanibbio, and attended master classes in composition with Karlheinz Stockhausen.
Kevin Shea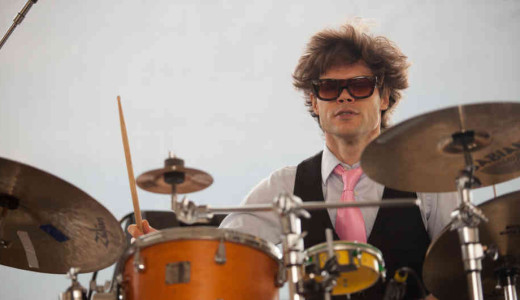 An innovative and free-minded drummer, Kevin Shea has always imbued his playing with a humor and flexibility that few in the jazz world have been able to match. While perhaps best known for his work with the band Mostly Other People Do The Killing, Shea has played on a host of other projects in the Avant-Garde, Jazz, and other genres, including works by Rhys Chatham, Storm & Stress, Peter Evans Quartet, Alan Wilkinson, and the group Talibam!