Stephen Gauci – tenor saxophone
Stephen Gauci is recognized as one of the leading saxophonists on the New York City improvised music scene. Musicians he's performed with include William Parker, George Garzone, Sabir Mateen, Tony Malaby, James Emory, Karl Berger, Kenny Wessel, Kris Davis,Tyshawn Sorey, Herb Robertson, Ben Allison, Marc Helias, Matt Maneri, Roy Campbell Jr., Daniel Carter, Steve Swell, Mike Bisio, Jay Rosen, Lou Grassi, Whit Dickey, Kirk Knuffke, Kenny Wollesen, and Graham Haynes.
In the past six years Stephen has released twelve records as a leader, as well as appearing as a prominant side man on three "Mike Bisio Quartet" releases. Gauci has performed at the Creative Improvised Music Festival (Austria), Rochest
er International Jazz Festival (New York), High Seirra Festival (California), Bumbershoot Festival, Folk Life Festival, Earshot Jazz Festival (Seattle, WA), and the Vision Festival (NYC). He has toured throughout Europe including Sweden, Germany, Austria, France, Hungary, and Portugal.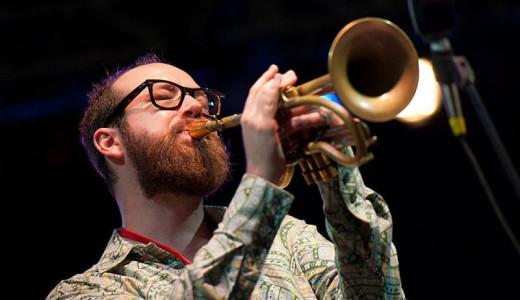 Kirk Knuffke – cornet
One of New York City's "Busiest Musicians" (NY Times) Cornetist Kirk Knuffke has been based in New York City since 2005.  A largely self-taught musician, Kirk has also studied improvisation with great jazz artists such as Ornette Coleman, Art Lande and Ron Miles. He leads  his own groups, including the Kirk Knuffke Quartet and trio, which play at venues across New york City including Le Poisson Rouge, Cornelia street cafe and The Iridium among others . As a leader or Co-leader Knuffke has 10 recordings for labels: Cleanfeed, SteepleChase, Not Two, Relative Pitch, and No Buisiness.Kirk stays very busy as a member of the celebrated Matt Wilson Quartet, touring the US, performing and teaching.  Recent concerts with Mr. Wilson brought Kirk to play at the New Port Jazz Festival and Jazz at the Lincoln Center's Rose Hall with guest saxophonist Marshall Allen. The Matt Wilson Quartet plus John Medeski recorded a new CD for release in early 2014 on Palmetto Records. For 6 years Kirk enjoyed a fruitful and educational collaboration with the late Butch Morris resulting in 4 recordings and several European tours. As a sideman Knuffke also plays in The Mark Helias Quartet, the Andrew D'angelo Big Band, Josh Roseman's Extended Constellations, The Jeff Davis Band, Ideal Bread, Brian Drye's Bizingas Kenny Wollesen's Wollesonic, Allison Miller's Boom tic Boom, and Bill Goodwin's Orntette. Kirk has also made appearances in venues outside the traditional New York jazz scene, including work with pop artist Josh Ritter on Sony Records.
Since arriving in New York, Kirk's prolific work has included recordings and gigs with groups featuring, among others, Roswell Rudd, William Parker, Uri Caine, Myra Melford, Karl Berger, Jeff Lederer, Jamie Saft, Bob Stewart, John Tchicia, Graham Haynes, Mark Helias, Allison Miller, Vijay Iyer, Chris Speed, Jim Black, Tim Berne, Daniel Carter, Steve Swell, John Zorn, Tony Malaby, Dave Douglas, Billy Hart, Michael Formanek, Trevor Dunn, Angelica Sanchez, Joe Bonner, Chris Lightcap, Ted Nash, Steven Bernstein, and Mary Halvorson. Internationally, he has played with ensembles at jazz festivals in Saalfeldan Austria, Willisau Switzerland, The North Sea Jazz festival in Holland, The Moers festival as well as festival dates in Canada, Mexico, Italy and France.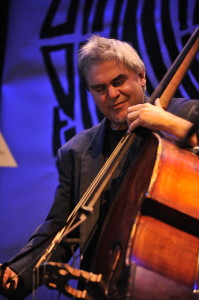 Ken Filiano
Ken Filiano is one of the most versatile and in-demand bassists working today. His extensive recording and performance resume includes workwith Steve Adams, Anthony Braxton, Karl Berger, Fred Ho, Bobby Bradford, Nels Cline, Connie Crothers, Bill Dixon, Ted Dunbar, Giora Feidman, Vinny Golia, Frank London, Tina Marsh, Dom Minasi, ROVA Saxophone Quartet, Roswell Rudd, Fay Victor, Andrea Wolper, Pablo Zeigler, and many, many more. His discography as a leader includes the solo bassCD, "subvenire" (Nine Winds); "Dreams From a Clown Car" (Clean Feed), which presents his compositions for his quartet, Quantum Entanglements, with Tony Malaby, Michael Attias, and Michael TA Thompson; and "Baudalino's Dilemma" with Warren Smith, Vinny Golia, and Michael TA Thompson (2014).